Today, online businesses are putting much effort into brainstorming ideas on how to keep businesses competitive, acquire more customers and motivate users to retain. Global companies are experimenting with numerous approaches to keep business afloat, from providing the best customer experience to high-level personalization. One such innovative approach that has proved to be successful and profitable is gamification.
Gamification leverages game mechanics to help businesses achieve measurable results. However, the success of your gamification efforts largely depends on your core business objectives and the gamification strategy you are pursuing.
Read Also: Rewisoft's Experience with Gamification: How to Create a Truly Engaging Solution
Thanks to our hands-on experience in gamification, we know what works, what the barriers are, and how to get gamification software development right from the start.   
In this blog post, we will detail how to build a gamification platform to ensure long-term business success and share best practices to boost engagement levels and increase customer retention.    
Brief Intro to Gamification Software Development
Introducing gamification elements and techniques into your business is a proven way to increase customer engagement and retention rate.
Big and small corporations implement gamification in their internal businesses, sales, and marketing campaigns to improve various aspects of their business: increase revenue, gain more customers, increase retention, create incentive-based programs to make users take the desired actions, boost engagement and motivation, etc.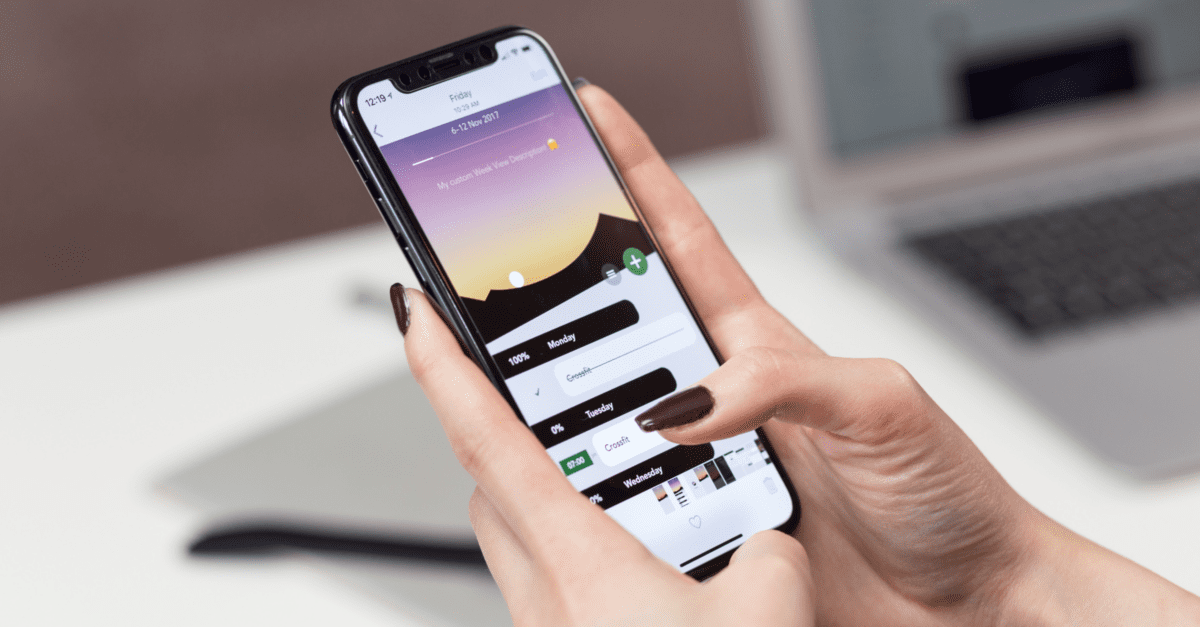 Moreover, the global gamification market is projected to grow from $9.1 billion in 2020 to $30.7 billion by 2025, clearly indicating strong user interest in gaming experiences.       
What is gamification?
Gamification entails using game elements and techniques in non-gaming applications and adding them to a product and experience. It has proven to be an effective customer retention technique since it mixes work with play. Gamification is a powerful UX tool that leverages different features that convert an ordinary customer experience into a game. These elements include competition, rewards, badges, scoring points, and others. By adding these elements to an app experience, users enjoy attempts to achieve specific goals, get rewarded, and get motivated to interact with your product more.
What is gamification platform development?
Gamification platform development does not stand for an autonomous type of development. Instead, under gamification software development, we mean the process of incorporating gamification features into your app and pre-existing business processes. There is no need to transform the entire structure of your product, as we can easily integrate gamification elements into your application, leaving the entire structure unchanged.
Gamification frameworks are mostly focused on human motivation and user engagement. By implementing gamification, we make the interaction between your brand and customers more enjoyable and exciting.
So, gamification platform development is a step-by-step process to create a top-rated app with gamification elements that work best for your unique business scenario and allows you to achieve the most critical business metrics faster. 
4 Industries Requiring Gamification Software Development
Gamification platform development is a widely adopted technology trend no matter what industry you're in. Companies incorporate gamification to improve their production processes, create employee loyalty programs, create interactive training, foster healthy habits, etc. Let's look at the most common use cases and examples from our portfolio of gamification applications across different industries.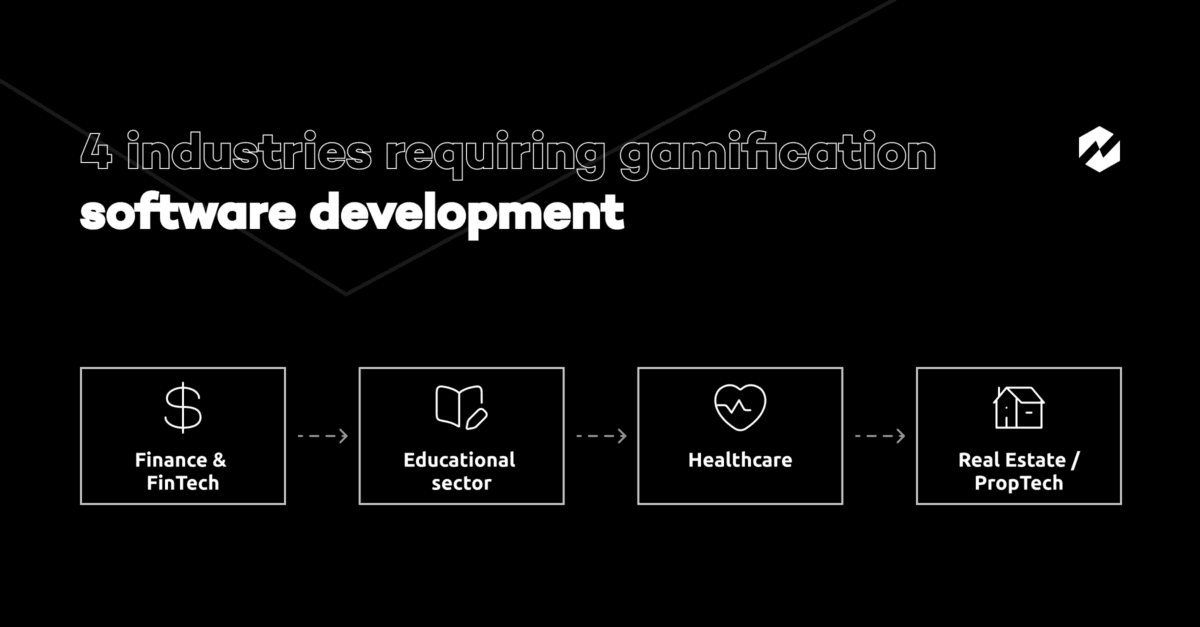 Finance & FinTech
Gamification works perfectly for Finance & Fintech business sectors. Gamification principles can largely affect consumer behavior with game mechanics such as countdowns, points, status-building, etc. Gamification-based finance apps stimulate consumers to perform actions, for example, save money or plan a budget.
The most popular use of gamification in the financial sector is personal finance apps and budget planners with gamified user experience. Gamified personal finance apps include such game elements as scoring systems, rewards, and achievement gifts when a user reaches certain financial goals. By setting objectives, monitoring progress, and completing tasks, finance app users can unlock rewards such as bonuses, cash incentives, and gifts.
Read Also: How To Outsource Fintech Software Development Right? [7 Quick Steps]
By employing the gamification concept, financial companies can minimize bounce rate, attract customers' attention and generate higher profits. A lot of companies also use a variety of gamification techniques like puzzles, quizzes, and videos to increase financial literacy as well.
Educational sector
Small organizations and big corporations apply numerous gamification techniques to their training programs, create interactive courses, and promote online game-based learning. This is achieved by making monotonous and repetitive processes like training and learning more engaging and enjoyable.
Here at Rewisoft, our team developed an advanced learning platform for developers and DevOps engineers that allows users to practice their programming skills through exercises based on real-world development scenarios. To boost user engagement, our engineers implemented such gamification elements as tournaments, points, levels, leaderboards, and trophies.
Users can enter tournaments to compete against others or simply challenge themselves and earn points. Tournaments also help users track their progress and see if they have gaps in their knowledge. Each tournament has a leaderboard showing users how much time is left to reach the top.
Gamification totally changes how this platform presents learning: users are not doing exercises just for practice. Each task completed helps students move to the next level and earn points or a trophy. In this way, learning turns into a real journey, and each exercise motivates users to achieve bigger goals.

Read Also: How to Create an E-Learning App: Steps, Price, Features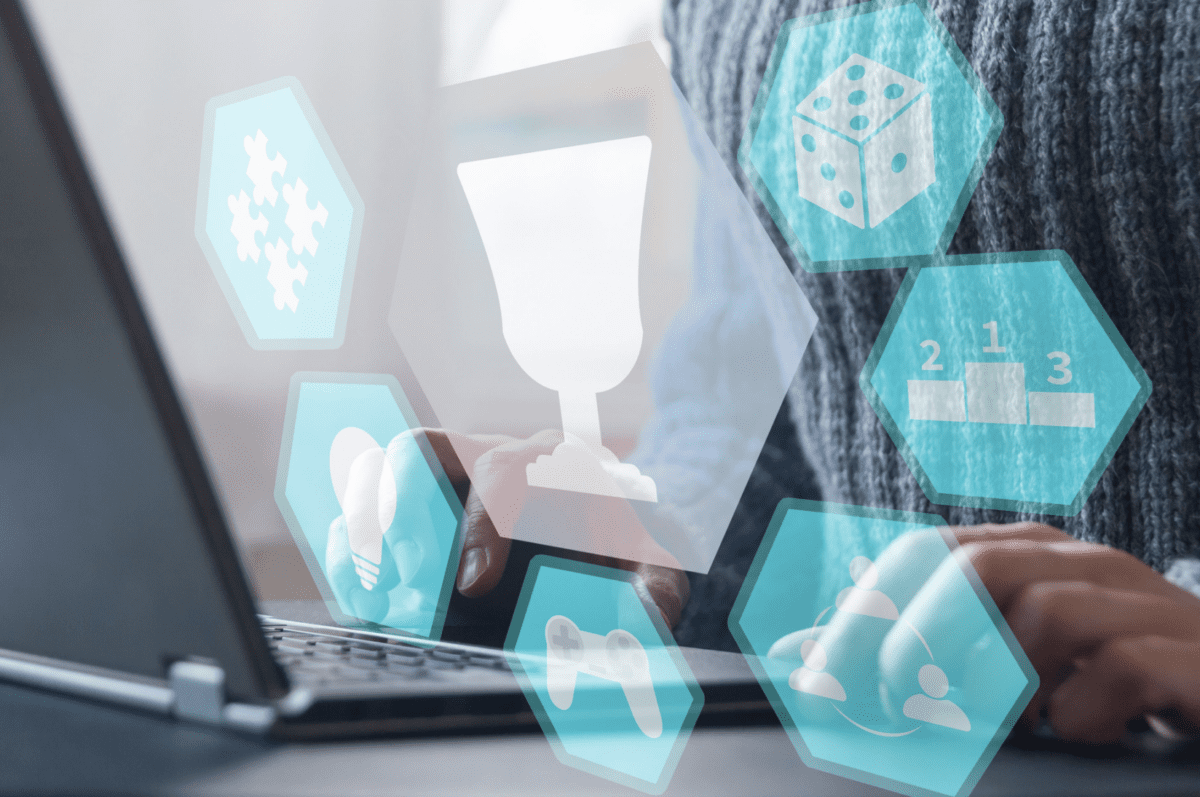 Healthcare 
Gamification software development for the healthcare industry can assist in various health interventions and care-boosting activities. Gamification helps healthcare organizations encourage long-term patient engagement, improve patient health, reduce costs, streamline treatment processes, and improve patient-doctor interaction.
Gamification in healthcare is a patient-centric way to change people's habits and behaviors, create healthy habits (e.g., evoke competition to motivate users to go to the gym or walk more), provide medical education (e.g., introduce exciting storytelling to help kids learn more about their bodies), or encourage medication self-control (e.g., earning points or gift cards for the periods of med adherence without interruptions).
Read Also: Telemedicine Software Development: Standards, Features, and Cost
So, the most popular use cases of gamification in healthcare are fitness trackers, healthcare apps for people with diabetes, and medication adherence apps. For these cases, gamified healthcare apps can:
Notify users when blood sugar level fluctuates
Track glucose and insulin measurements
Keep track of nutrition data
Track eating habits and level of activity
Evoke competition between users and stimulate them to exercise regularly
Etc    
Real Estate/PropTech
Another industry that takes advantage of gamification is Real Estate. Gamification is well-suited for real estate businesses because it helps increase motivation and engagement and build long-term partnerships. For example, we can add game mechanics to increase real estate agent's performance and motivation to make more sales or improve customer satisfaction by offering your agents a bonus for every positive review they receive.
By adding leaderboards, you can rank your agents by performance, encourage friendly competition and provide them rewards in the form of resources to help them close even more deals. As a result, gamification results in more collaboration and team effort to increase sales.   
Read Also: Practical Guide on Digital Transformation in Real Estate: Trends, Benefits, and Roadmap
Why Do You Need Gamification Platform Development?
We have already started listing the benefits of gamification platform development that many companies from various industries are experiencing firsthand. Let's summarize again why you need to create a gamification platform.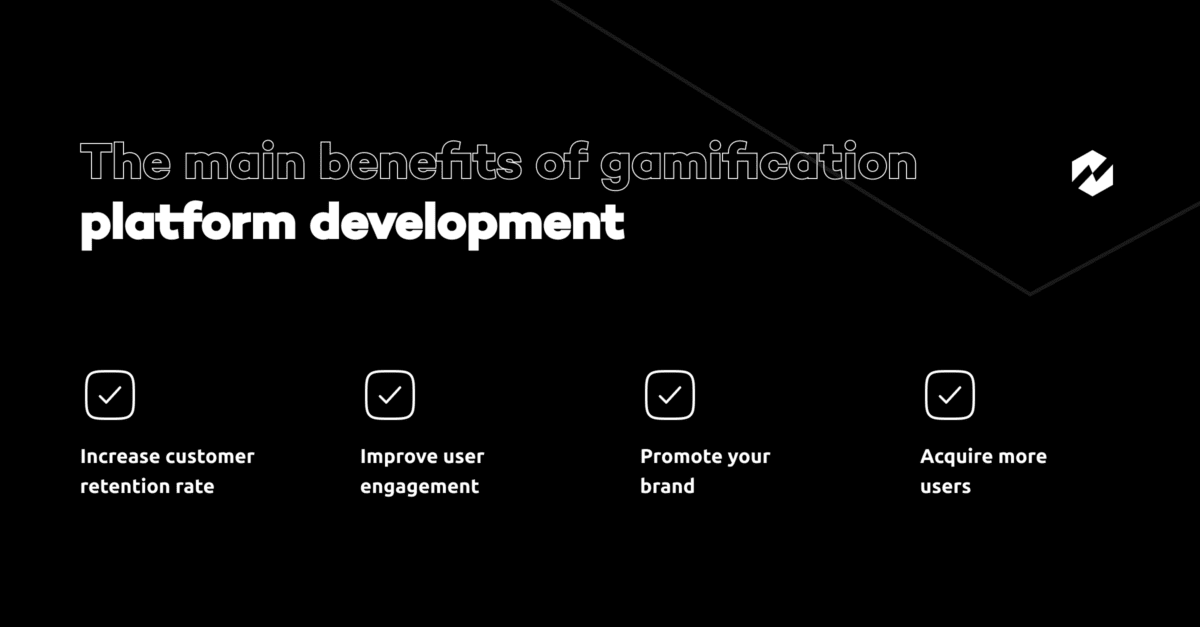 Increase customer retention rate
Gamification is one of the best practices for improving customer retention. Gamification is based on leveraging psychological elements like achieving goals, competition, gaining social status, and earning rewards. Thus, users are highly motivated to stay active for a longer time and get rewarded in exchange for their actions. 
Improve user engagement
Gamified apps stimulate users to engage more by turning monotonous and tedious in-app tasks into a game. Challenges, trophies, and badges evoke curiosity and excitement: users want to move to the next level or get as many rewards as possible. The gamification tactic nearly doubles user engagement and promotes longer-term engagement. For example, one of Rewisoft's recent projects is an achievement system for better learning, where users are encouraged to try out as many platform features as possible through gamification.   
Promote your brand
The gamification principles help distinguish your brand from the leading competitors and similar solutions on the market. For example, our advanced learning platform for developers turned out to be not just a traditional learning platform – with gamification features, we've added a whole new user experience to the platform. In this way, gamification helps to draw attention to your brand and increase brand awareness. 
Acquire more users
People tend to share information and encourage others to participate in something they like. The same logic works for gamification: excited users are likelier to invite friends to try the same experience. For example, we have recently worked on redesigning a mobile app that promotes social engagement among youth. This app suggests inviting friends to get an app and participate in the challenge. It works as part of a successful gamification strategy that helps your business reach more users through gamification. 
How Rewisoft Creates a Gamification Platform in 8 Steps?
Understanding how to build a gamification platform right from the start is crucial to minimize the risks and reducing overheads. We have prepared an experience-based step-by-step guide you can rely on when starting with gamification software development.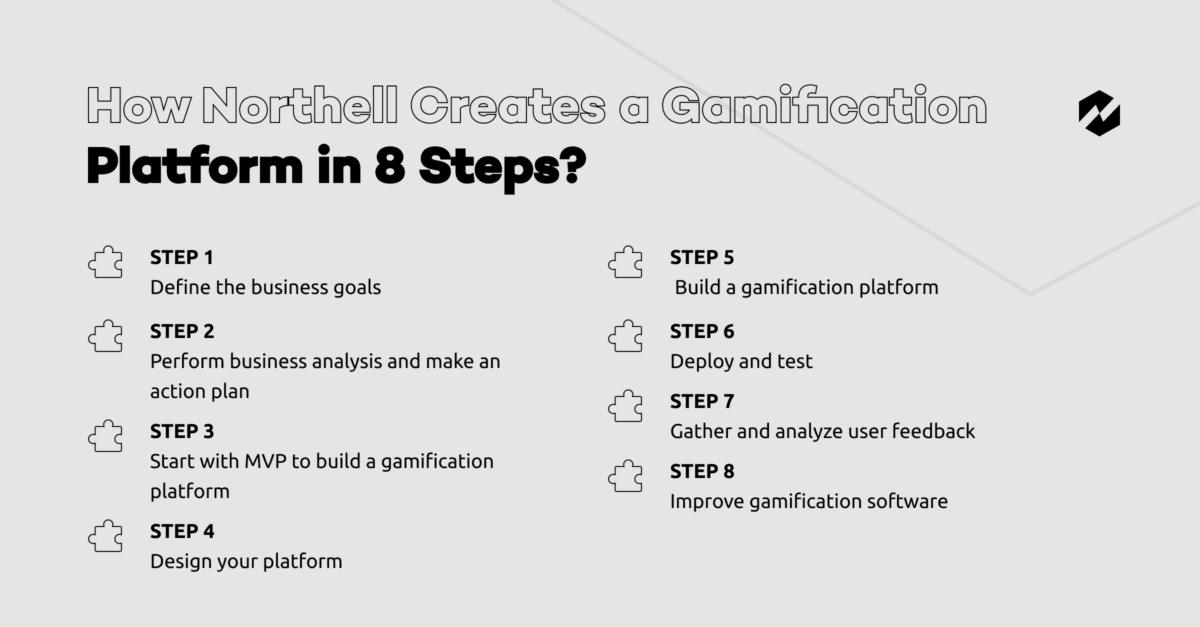 Step 1. Define the business goals 
How to build a gamification platform? Before jumping into gamification software development, the critical step is defining your business goals. It's essential to ensure you've implemented game mechanics in line with your business objectives.
When planning a gamification strategy, you won't waste time and resources if you keep it aligned with your business vision. So, when considering how to build a gamification platform, you should understand what problems it will solve for your users and why gamification is the right solution for your business.
Step 2. Perform business analysis and make an action plan 
Gamification requires a lot of resources, planning, and research. So, the first tasks on your to-do list are researching the software market, studying your direct competitors, and making an action plan.
According to the statement made by Cameron Graham from TechnologyAdvice: "Gamifying for the sake of gamifying is a good way to waste a lot of time, effort, and money." This a good statement that shows how important it is to conduct in-depth business analysis to avoid further project failures before getting to development. Business analysis will help you to evaluate the current market, analyze risks, assess strengths and weaknesses, and create a winning gamification strategy.
Need help with business analysis? Ask Rewisoft's trusted consultants for assistance. Get more info about our software consulting services.  
Step 3. Start with MVP to build a gamification platform
Starting a custom gamification platform development from scratch may take a lot of resources, time, and effort. To ensure the investment and efforts pay back – you should go this route and validate your idea first before creating a gamification platform.
A minimum viable product (MVP) is a proven way to test your idea and user demand for the gamification functionality with minimal resources. In such a competitive software landscape, it's better to start small. With only basic functionality and a limited budget, you can ensure that your idea of ​​a gamification platform is viable and worth building a full-fledged product.
Building an MVP is the most optimal to:
Gather your target audience's feedback
Test your product on real users
Prioritize the list of features for the next development stages
Increase brand awareness
Get your first return on investment (ROI) if your idea is worthy  
Step 4. Design your platform
Your gamification platform's UI/UX design is essential to create intuitive navigation and clear visual parts of your product. The gamification idea will only work well if the overall design of your interfaces and interaction is clear to the users. So, to create interactive and user-friendly UX and UI parts, Rewisoft recommends using the following practices:
Focus on clear and simple user interaction
Prioritize minimum steps in the app navigation
Define clear and logical steps for each user flow
Add onboarding to teach your users how to play games or participate in the challenges so users keep being engaged from the first screen
Adopt popular UI/UX design trends that users like most
Balance simplicity with interactive elements
Remove clutter from product interfaces to improve UX
Make gamification work with our digital design services!
Step 5. Build a gamification platform
When you know how to build a gamification platform correctly, you achieve the highest quality and long-term value for your users and business. So, once the scope of work is confirmed, our developers get to gamification software development. Using predefined technical documentation and chosen tech stacks, our developers implement the front-end and back-end software sides.
Our software engineers transform UI design into a functioning user side during front-end development. During back-end development, our back-enders implement the application's server side, APIs, and business logic. Typically, we assign 2+ experienced front-end and back-end developers to this stage.
In this process, Rewisoft's team follows the best development practices, including Agile project management, CI/CD approach, regular code reviews, code quality control, test-driven development, and regular communication and reporting.
Step 6. Deploy and test
We focus on continuous testing in parallel to the development stage to minimize potential reworks at the final testing stage. Despite it, once all development jobs are done, we have planned multi-level testing to check the product's usability, performance, acceptance, and functionality. If any errors, bugs, and other problems are identified, we assign developers to fine-tune the product and make necessary improvements.
Once the testing phase is over, we gradually deploy your gamification software to the production environment for beta testing. Our team collects user feedback during the beta testing and makes improvements if required.
Step 7. Gather and analyze user feedback
During beta testing, we gather and analyze early user feedback. This part is important to ensure that gamification works the way you expect it to and to eliminate inconsistencies in product behavior.  
Step 8. Improve gamification software
After the gamified product is fine-tuned, we finally roll out the product to the market. As a valuable part of post-release support, we offer our professional assistance in troubleshooting, updating product functionality, improving performance, and more.
The tech industry never stands still, so you should keep up with the latest gamification trends to stay one step ahead of the competition. 
Key Features for Gamification Software Development to Consider
To make gamification mechanics work – many gamification instruments can be applied. Below, you can uncover the most popular game features worth implementing.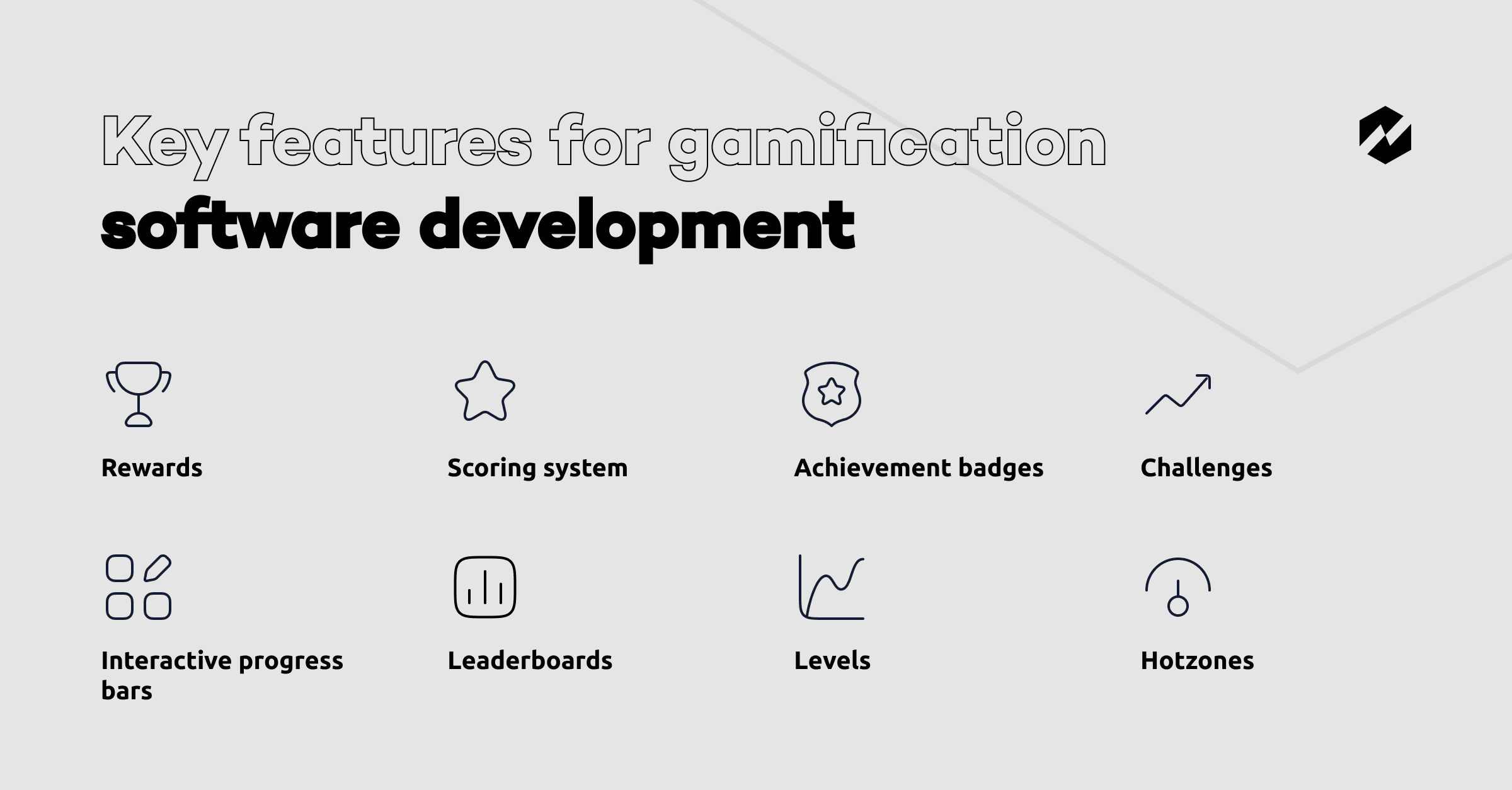 Rewards
A reward system effectively attracts, engages, and retains users. Rewards such as badges, points, and stickers are highly motivating for users who can receive them when interacting with the software platform. Users can receive such rewards after completing a specific action or task and feel their efforts are worth it.
For example, you can gamify your online marketplace by letting customers earn coins for making purchases and redeem them for gift cards and discounts.    
Scoring system
The scoring system allows users to earn points for wins. Such a system automatically collects and calculates the points so players can redeem them for gifts, discounts, or virtual prizes.
For example, in one of Rewisoft's cases – a mobile app for social engagement, we've implemented a scoring system where a user gets points for completing challenges needed to move to the next level.
Achievement badges
Achievement badges are an example of rewards that increase user engagement and improve motivation. Since many computer games use achievement-based systems, you can use the same approach to gamify your application.
For example, you can reward users for learning specific educational materials. That encourages users to work and try harder to complete the actions and tasks you want them to do.   
Challenges
Using different types of challenges can keep users engaged and loyal to your app and brand. However, it's vital to make your challenge aligned with your goals. So, you will need to figure out how to challenge your users.
For example, if you need to get your users to sign up, the challenge could be a race for a time-limited gift/offer after signup. If you have a fintech solution, you can challenge users to plan a budget and stick to it to avoid overspending.
Interactive progress bars
Understanding how to build a gamification platform starts with brainstorming how to implement effective features to start your gamification journey. Interactive progress bars are another example of driving user engagement and boosting brand trust.
Progress bars fill up once a user completes a task. This way, you reduce the cognitive load for users and add more to better app responsiveness. You can implement interactive progress bars to measure a wide range of things – personal achievements and rewards earned, or help guide users to where they are achieving a specific goal.  
Leaderboards
In simple terms, the leaderboard lists the best scores that allow users to compete with each other. Applying these game mechanics can help you to track actions that drive wins, set individual targets, monitor real-time progress, add more fun, etc.
For example, as mentioned earlier, leaderboards can work as powerful stimulators of healthy competition. Leaderboards can motivate real estate agents to close more deals. Adding a leaderboard to your HR software can help you identify underperforming employees. Or, by implementing a leaderboard for the online learning platform, you can provide your learners with rapid feedback on their learning achievements and experiences and reward them for tier efforts.   
Levels
Another way to display user progress is to add levels. Levels show that a user has reached a specific point. Levels are easy to understand and can be customized. Levels can also be a valuable indicator that can help track the user's performance. They work as a point threshold, automatically upgrading based on a particular engagement.
For example, students can level up after meeting a specific requirement or earning a high grade in a subject.
Hotzones
You shouldn't forget when thinking of how to build a gamification platform – gamification works doubly well, along with hotzones. You can add hotzones to act as red flags where users can earn double points. That can help you add a variety to the challenges your gamified app provides to improve user experience.  
Gamification Software Development Tips to Follow
Rewisoft knows all the ins and outs of how to build a gamification platform and ensure successful business outcomes. So, we'd like to share valuable tips to make the gamification software development process right.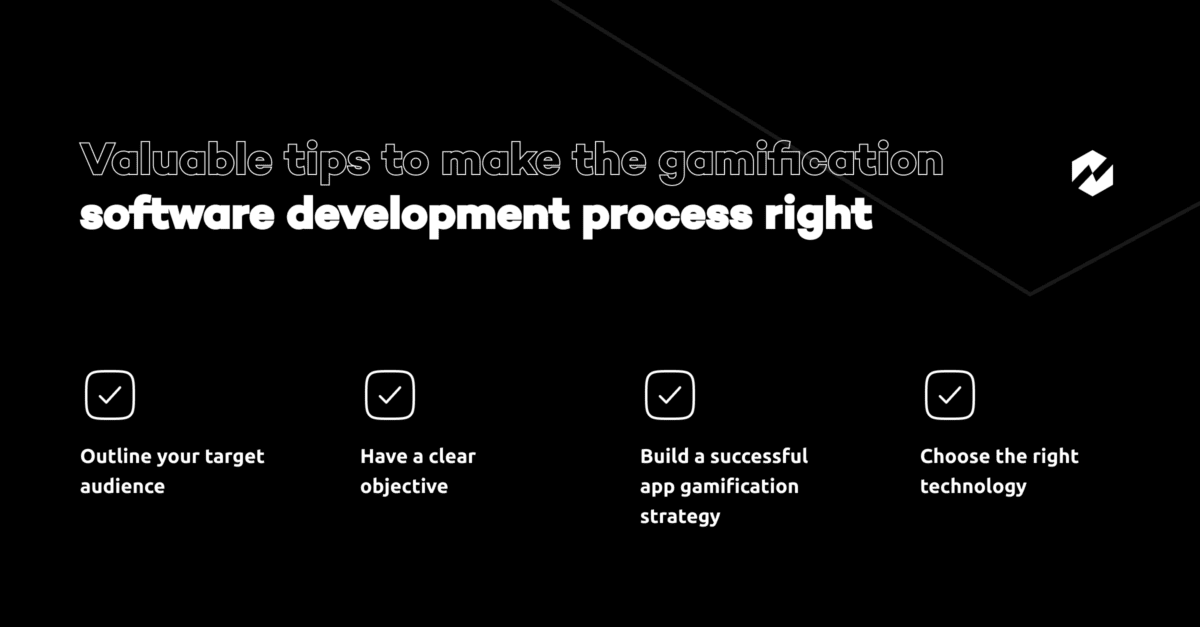 Outline your target audience
To ensure gamification is the right tool that works best for your business:
Choose the right audience to target.
Portray your ideal user and find out what problems you can best solve for them using gamification tactics.
Remember, gamification is not just about games – you can use it as a powerful UX tool for goal-setting. That may come as a specific task that should be completed in a limited time and have a defined reward.
The right solution perfectly combines your company's objectives and your target audience's needs.   
Have a clear objective
To make your brand a priority for customers, you should consider your gamification strategy carefully. Since gamification leads to a call-to-action, such as "take action and get rewards," it's best to have a clear objective. Clear goals provide clarity to your customers and encourage better engagement.
Build a successful app gamification strategy
When building a gamification strategy, it's vital to successfully incorporate it into your app experience, especially regarding tasks that are not usually associated with games. While the gamification itself can be simple, the gamification elements you choose to implement should provide a positive user experience and meet users' goals. When executed right, you'll be able to integrate a seamless experience into your app that keeps users engaged and satisfied.
Choose the right technology
There are a lot of game mechanics you can implement into your app. However, you should choose the one that best fits your objective and integrates with your software. The choice of technology stack largely depends on the future success of your gamified app. So when choosing a technology, look for scalability, ease of use, and the ability to add features and customize later.
How much does it cost to create a gamification platform? 
Another important thing to clarify when considering how to build a gamification platform is the overall project cost. For a full-cycle gamification platform, the price may start from $45,000, depending on the complexity of the application. Beyond coding, there are other cost factors you should keep in mind to evaluate the cost of gamification software development. For example:
The complexity of the UI/UX design;
The number and complexity of gamification features;
App architecture;
Team expertise;
Team size;
Hiring model.
Below, you can see a comparison table to help you understand the costs for gamification platform development divided by the outsourcing region and project stage.
As you see, the above factors influence the total project cost, and the price range may fall between $45,000 – $400,000 for a single app.
In any case, the Rewisoft team is highly committed to executing the project on time and within the budget without compromising quality, design, and features. We are flexible in terms of cooperation and provide several cooperation models:
You can choose the most suitable option and switch the models throughout the project. Moreover, we have a well-elaborated development workflow and deep knowledge of the best technologies to create gamified apps on budget and quality simultaneously.
Get in touch with our experts and discover the cost of gamification software development tailored to your business!
Gamification Platform Development with Rewisoft: How can we help?
Rewisoft has several other cases working with gamification software development.
One of them is a SaaS solution that offers online motorsports training. Users can upload their racing videos to receive personalized training from top experts.
The main gamification mechanics in this platform is the achievement and reward system. The platform utilizes achievements to motivate users to engage in the learning process and facilitate their progress actively.
Users can get a reward for completing such tasks as:
Getting sessions with a particular number of coaches;
Reading a set of articles;
Reaching the goals outlined by the coach.
The game mechanics implementation helped us stimulate users to come back to the platform to try more features and engage in new activities.
Another case is a mobile app that promotes social engagement among youth. This app allows users to participate in different social activities and challenges, explore new locations, meet people, and engage with friends.
For this solution, we added such gamification elements as:
Challenges;
Points;
Levels;
Achievements;
In-app goods.
The logic is simple: the user gets points for completing challenges while those points are needed to move to the next level. Moreover, some app features, such as private rooms, are available only after reaching a certain level.
With such a successful gamification strategy, we have helped the business reach more customers and increase user retention.
If you aim to build a gamification platform or add gamification features to an existing one, you are welcome to contact our team. With vast experience in this field, we will assist you in prioritizing features, choosing a technology stack, and building a successful app gamification strategy to retain your users and help you generate more profit for your business.  
Gamification Platform Development: Summary
To deliver products and services in a highly competitive landscape, businesses working online have to provide a customer-centric experience while retaining existing customers and attracting new ones. Gamification is a valuable UX tool that can quickly help you achieve these goals, reach a wider audience, and increase customer loyalty and conversion.
At Rewisoft, we provide various industry-specific gamification software development services. We have over 50 experienced software specialists on board, ready to collaborate on your project. Contact us!