Web App Design is a hot topic for most startups. We all know that attractive web application design sells. If you want users to choose your web application among hundreds of others, you need to win users' hearts with your product as soon as possible. Studies show that it only takes users 7 seconds to decide whether they like the app or not.
What is Web App Design?
What is web app design for startups? What are the main peculiarities of web app design for startups? A startup is usually a new idea or concept. Therefore, to not spend a lot of time on product development and fail, you need to approach the issue of creating your product and web app design seriously.
Startup web application design should be simple, straightforward, convenient, without unnecessary features and elements, with easy-to-understand logic and navigation, pleasing to the user's eye. For a startup, users should understand what the idea of ​​the product is and how the product can help them solve a problem or achieve a goal in the first minutes of using the product.
It is also crucial for your startup web app design to be custom. A web application can be your most important marketing asset. So, it should reflect the nature and philosophy of your business. No ready-made template can convey who you are and what you stand for to potential investors, customers, employees.
What does Web App Design Include?
To better understand how to build a web app design process, let's look at what stages it includes.
Web App Design: Product Discovery
You need to start the web application design process with product discovery. Product discovery includes drawing up the business logic of your product and competing research that will help you create a solution that will outperform other players in the market. You also need to determine what problem your product will solve, whether people will buy and use your product and whether your solution will work.
The more information you collect and prepare at this stage, the easier it will be for your design and development team to understand what kind of product they need to create. It will also increase the likelihood that you will be able to create a truly valuable solution.
When our team is working on any project, the discovery stage includes:
Definition of business, user and discovery goals;
Stakeholder interviews;
User interviews;
Competitive analysis & SWOT analysis;
Personas creation;
Business model canvas;
Lean canvas;
User stories;
Customer journey map creation.
Web App Design: UX Design
The user experience focuses on a deep understanding of users, what they need, what they value, and their abilities. It also takes into account the business goals and objectives of the project management team. UX best practices help improve the user interaction with your product and any related services.
UX Design includes:
Information Architecture
Prototyping
Wireframes
Based on broad experience in UI/UX design, our team has prepared some UX tips for you:
Make the product simple and enjoyable. The first requirement for a great user experience is to meet the customer's exact needs without fuss or unnecessary action. Next comes simplicity and elegance that create ease of interaction.
Make the user experience valuable and dynamic.
Always consider the human factor. User experience is how a person feels when interacting with a system.
Remember, every detail is important. User experience is everything that happens to your users when they interact with your web application. It includes everything they see, hear, and do, as well as their emotional reactions.
Web App Design: UI Design
UI design is all the elements that the user sees and interacts with. For example:  
buttons; 
text fields; 
checkboxes; 
sliders; 
search bars; 
tags; 
icons.
The UI is focused on making the user experience a pleasant experience.
Think about apps you like, like Airbnb, Telegram, or Uber. Their design is simple but attractive.
Web App Design: Testing
Once the UI and UX of your application are ready, you need to test everything thoroughly. Testing will help you identify mistakes and problems related to your web app design at an early stage and fix them in time. Also, testing will help you understand how well your design is understandable and convenient for users.
At Rewisoft, we use our own UX Lab for design testing. Our team uses UX Eye Tracker that allows exploring user behavior during interaction with the product. Only 1% of companies use this method. An eye tracker is a unique tool that captures the movement of a person's gaze and helps get a record of where and for how long the user was looking. 
Web App Design: Rewisoft Case Studies
As we said earlier, the Rewisoft team has extensive experience in web app design and working with startups. We want to tell you about a couple of projects we have been working on. 
One of our clients, Launch, a digital matchmaking platform for young talents and companies, required UI/UX design for the website and mobile applications of the platform aimed to bring value to both students and companies seeking digital matchmaking solutions.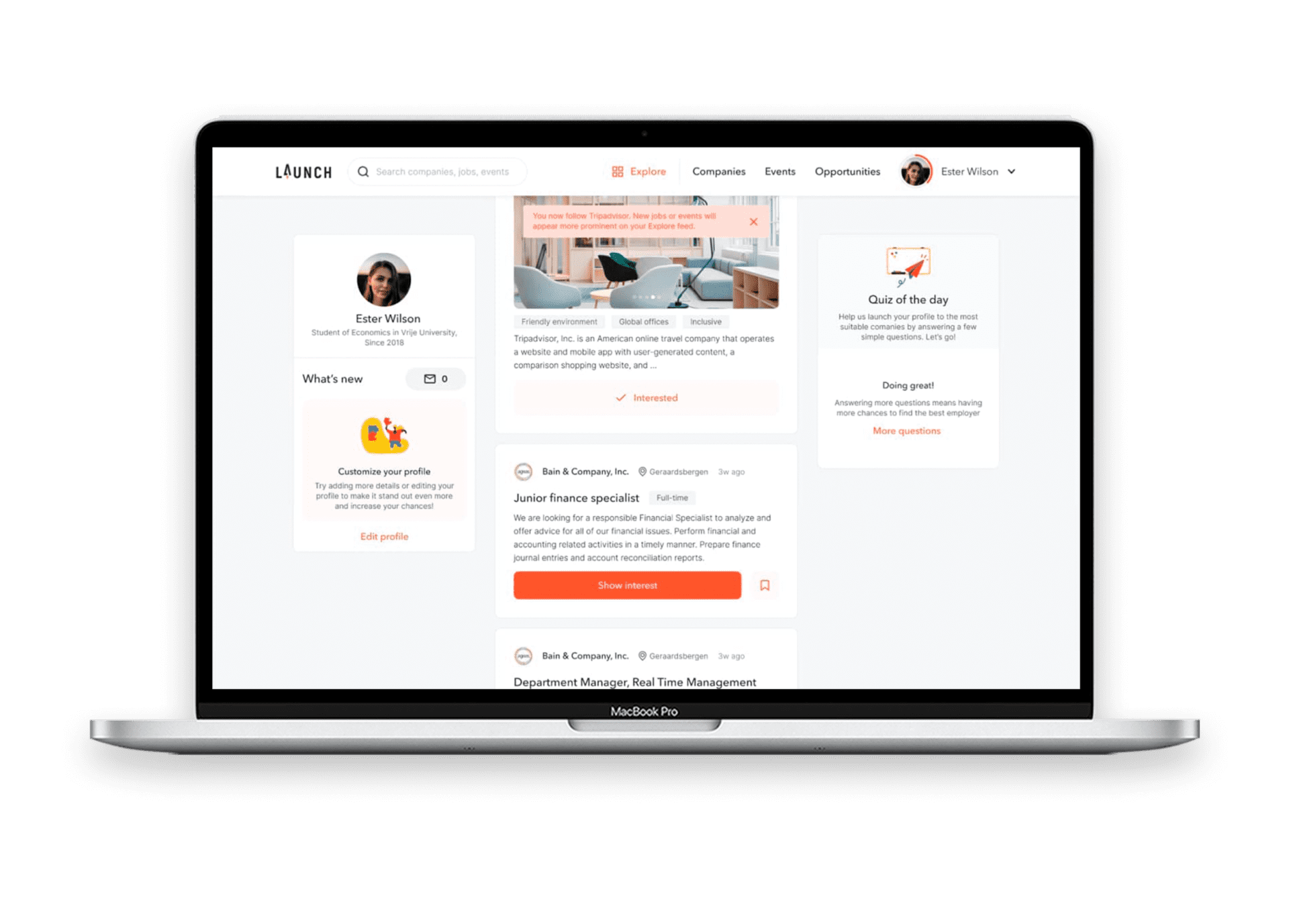 The work on the project we started with research that included understanding the client's needs and user research. Then we evaluated the web application's business logic and analyzed existing market research conducted by the client. 
Our next step was to create high-level desktop wireframes considering users' needs. Afterwards, once wireframes were approved by the client, we started the UI design process utilizing a mobile-first approach in order to maximally adapt the responsive design. Our designers enhanced and complemented the web application correspondingly. 
Rewisoft team made UI design of the web application straightforward using a white background with black text and orange buttons to make concise accents. Taking into account that users tend to search mostly from their smartphones we were focused on mobile and created an app from a mobile point-of-view to ensure high responsiveness of the application. Furthermore, we were engaged in marketing design activities. 
After the end of the project, our client was satisfied with the work done, and we replenished our portfolio with another successful project. More about this project you can read in our case study
One more project we worked on was Racers 360, a personalized online motorsports coaching project that makes pro-coaching affordable and accessible to any racing fan. The client needed a more user-friendly and attractive design for the web app to provide a better experience to their learners and coaches.
After conducting several kinds of research, we understood that the web app lacked an essential functionality: separate interfaces for authorized users and coaches. Therefore, we developed two different solutions with relevant functionality for both.
This allowed us to make the system much more convenient to use for both parties. Also, we added gamification elements and achievements to make the experience on the platform even more enjoyable. As a result, we got:
Easy-to-navigate web app;
User-friendly design with big buttons and contrast colors;
Intuitive functionality even for first-time users;
Advanced message board for communication between racers and coaches.
And one more project we created design for was SmartTRACK, a hospital solution that helps manage staff work and make it more organized. The client needed a user-friendly platform design.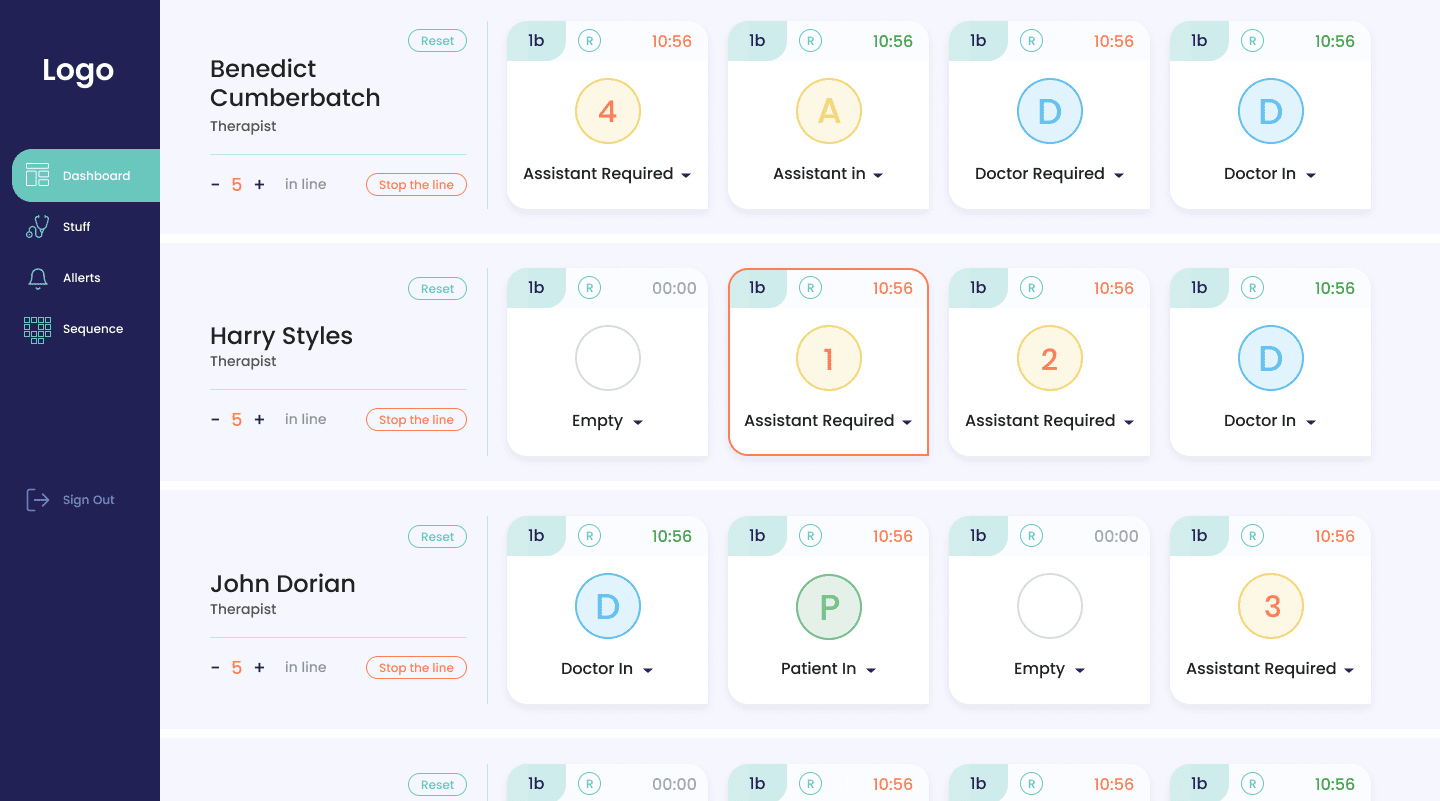 The main users of the platform are administrators, receptionists, doctors and doctors' assistants. Our main task was to make the platform design in such a way so that each user could understand how to work with the platform and feel comfortable.
Rewisoft team created the UX/UI design for the platform. We made the platform universal. Therefore, many hospitals can use this solution with the possibility of custom adjustment. We also developed a responsive design (for mobile and tablet users). Since most doctors work using tablets, responsive design was a must.
If your startup needs help with web app design, we will be happy to create a solution that suits your needs. Don't hesitate to contact us!
What Does The Web App Design Depend On?
To create a really high-quality design for your application, you need to know a list of the main things that affect it. 
Web App Design: Industry standards
Web app design largely depends on the industry in which the product will be used. There are rules that designers use when creating an application for a specific area of ​​business. 
For example, in a web application for the banking sector, designers are likely to use blue and its shades since this color increases loyalty, inspires trust, and shows the company's seriousness. Also, for such an application, it is necessary to build clear logic and user experience so that users do not get confused and can do the actions they need in a few minutes. 
 Another example is if a web application is being developed for the restaurant industry. In this case, predominantly red and yellow will be used as these colors have been proven to induce hunger.
Web App Design: Target Audience
Target audience is the next thing to consider when developing web app design. Let's give an example. Your target audience is children. Applications for children should be bright, colorful, with elements that attract attention, animations, beautiful graphics, etc. Navigation of the application should be simple so that children can immediately understand where they need to click to achieve their goal.
Another example is if you are developing an application for retirees. In this case, the design will be simple, without unnecessary elements, the buttons will be large enough for a person to click on them, the text will be used to a minimum, etc.
Web App Design: Flow
Flow is the user's path before performing the main action in the application (for example, register, subscribe for the first month of use, etc.). The more complex this path is, the more time you will need to create the design. Here, the design largely depends on the logic and features of the navigation.
Web App Design: Competitors
Before you start designing your application, you need to research your competitors. By analyzing competitors, you can understand what is currently used in the design, be inspired by ideas, and note the mistakes you need to avoid while developing your design. In fact, competitors' applications will serve you in many ways as an example of what you can, should, or should not do.
Web App Design: Functionality Restriction
Web app design will very much depend on the functionality that you add to the product. The more features the product will have and the more complex they will be, the more time and resources you will need to create the design. Also, do not forget that the more complex the product, the more thoughtful the design is needed and, consequently, more money for its implementation.
Web App Design: Trends
Trends also influence web app design. For example, some of the main design trends for 2021 are:
Abstract graphic compositions. Abstractions, especially those made up of simple geometric shapes like squares and circles, can seem overly minimal. However, in 2021, web designers are combining them into complex, expansive compositions that show freedom.
Calm color gamut (colors that are comfortable for the eyes of users). Given that the labor market has come under the influence of digitalization, most people spend a significant part of their time at computers. Because of this, users often feel eye strain. Web designers take this into account and create color schemes that make it easier to read.
Quizzes that engage users. Instead of forcing the user to read product descriptions and make decisions on their own, more and more brands are using questionnaires to create interactive experiences and gamification.
3D Colors. Color schemes in web design have been trending towards gradients for some time now, and this year's trend seems to be the next evolution where color transitions are more realistic than ever.
There are a lot of trends, and they are all different, but it is worth remembering that you should not create a design from only trends. Everything will change every year, so choose trends for your web app design wisely.
Web App Design: Company brand
Your web application design should fully embody the idea of ​​your business, your brand. The brand is what makes you recognizable among many other similar apps. It affects what will be used in the design of your application, such as colors, shapes, logo, graphics, pictures, etc.
Best Web App Design Examples [In various industries]
To better acquaint you with web app design, we have prepared the best web design application examples in different industries. 
SaaS
One of the great SaaS web design application examples is MeetAlfred, an easy and advanced all-in-one sales enablement software for LinkedIn, Email & Twitter. This is a project that our Rewisoft team has been fully working on.
The company helps find the ideal target audience fast, create multiple campaign sequences and optimize campaigns to drive even stronger results.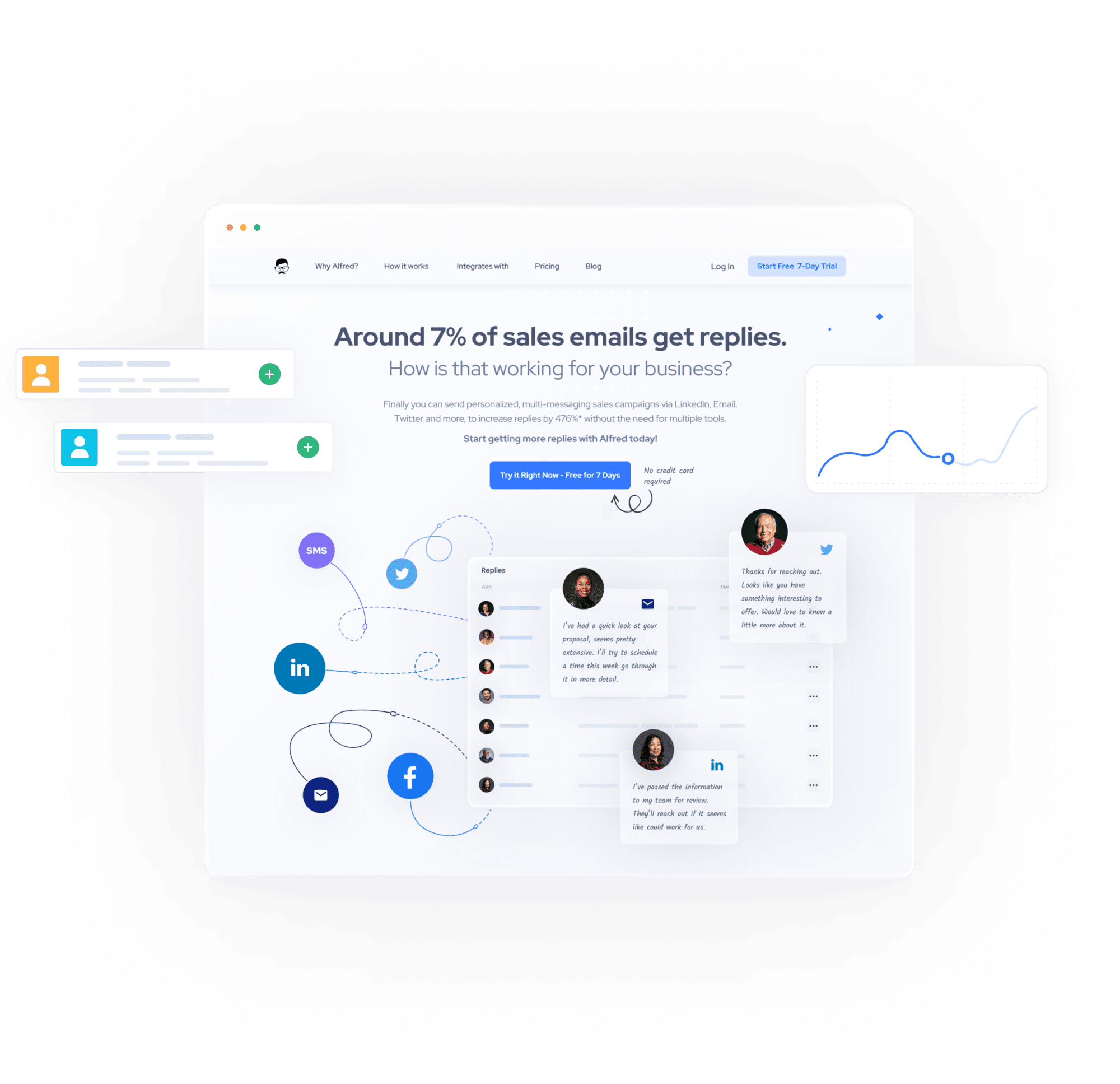 More about the MeetAlfred project you can read here: MeetAlfred Case Study. 
If you are interested in designing a SaaS web application, click here: Rewisoft SaaS Software Development. 
CRM
Pipedrive is a CRM system for small and medium businesses. Its functionality is a simple but effective tool for managing the sales process.  
If you are interested in designing a CRM web application, click here: Rewisoft Customer Relationship Management Software Development.
FinTech
One of the great SaaS web design application examples is Binance, a cryptocurrency exchange. Binance offers a unique portfolio of cryptocurrency products and opportunities. The Binance app is often at the top of the most user-friendly and intuitive FinTech apps list.
If you are interested in designing a FinTech web application, click here: Rewisoft FinTech Software Development
Marketplace
Of course, the Amazon online hypermarket stands out for its design among all marketplaces, which is rightfully considered a giant in the e-commerce market.  
The main principle of the application is the maximum user comfort to stimulate the desire to make a purchase. A convenient search engine makes it possible to quickly find a product by any word somehow related to it. Numerous catalogs of goods are offered, with the help of which the buyer can navigate. 
Moreover, you can always ask for expert advice if you doubt whether to buy a particular product. Amazon also offers a subscription to interesting promotions and news related to the product you are interested in. That is, you will be able to receive only the information that is really interesting and needed. 
If you are interested in designing a Marketplace web application, click here: Rewisoft Marketplace Development. 
Education
Udemy is a distance learning portal that features a wide range of disciplines ranging from academic, social sciences, and humanities to mobile app development. More than 100 thousand various online courses are available to users. According to user reviews, the web application has a great UX.
If you are interested in designing an Education web application, click here: Rewisoft Education Software Development. 
Real Estate
For an example of a good real estate web app design, we took one of our NWCC projects. NorthWest Construction Control (NWCC) is a construction finance control system. It allows construction companies and investors to manage finances and project implementation effectively.
NWCC is a platform that has been functioning for more than 35 years. Many users have utilized it for years, so we made sure that the shift to the new version was smooth. It was crucial to create a design that both preserves all the essential features and, at the same time, adds convenience to the experience.
As a result, we created a sophisticated yet easy-to-navigate design: all the platform's elements are organized so that even those, not tech-savvy users can intuitively operate NWCC.
More about the NWCC project you can read here: NWCC Case Study. 
If you are interested in designing a Real Estate web application, click here: Rewisoft Real Estate Software Development. 
Social Network
JustAskme is a project that emphasizes the power of questions and answers that allow getting to know someone better and with fun. The JustAskme web application connects fans with their favorite artists, creators, influencers, friends, and even crushes. The influencers, in turn, get the opportunity to earn by answering questions from their audience.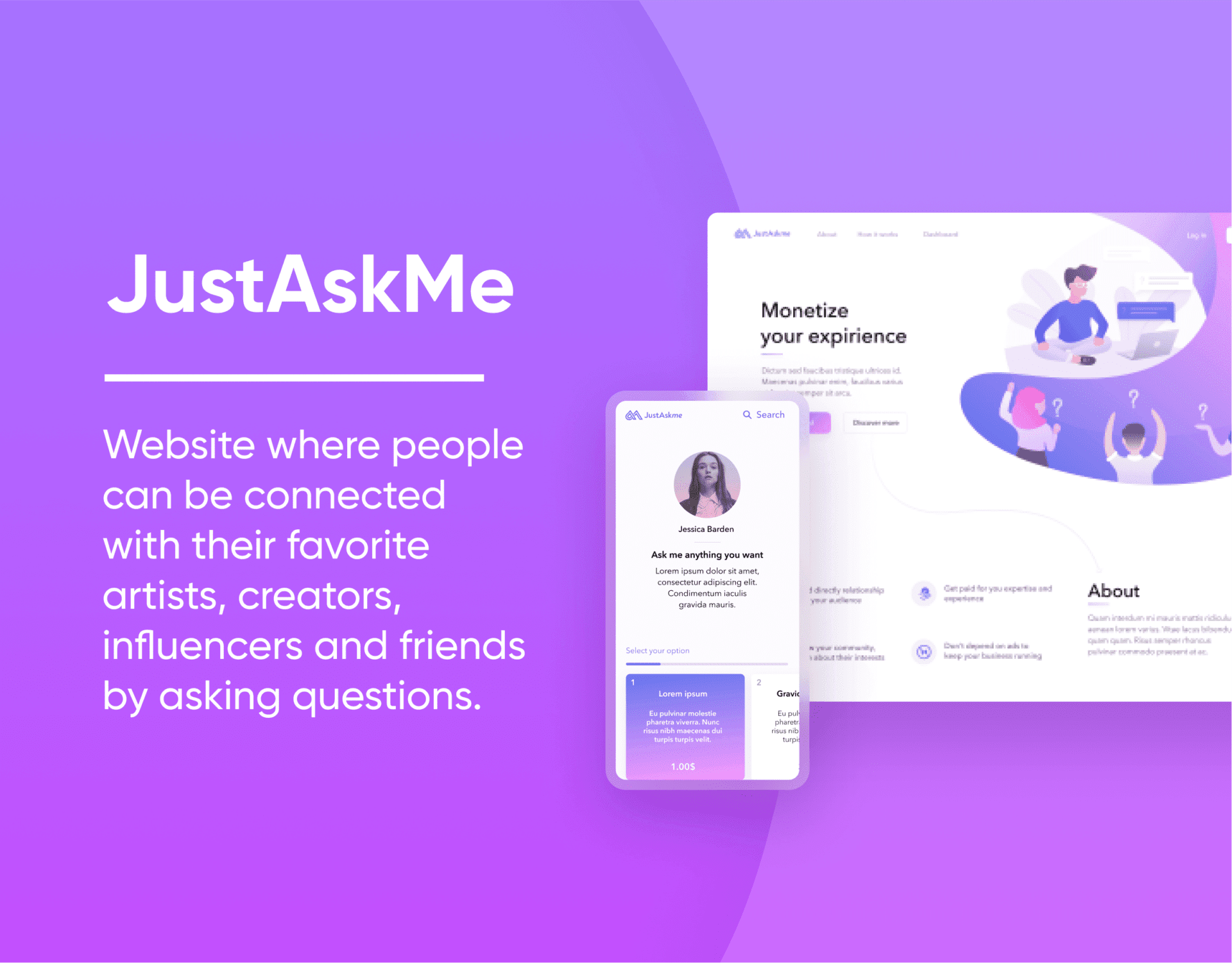 This is also a project that our team worked on. We created an engaging and stylish platform that allows users to connect with their favorite artists and influencers and receive answers to their questions. 
More about the JustAskme project you can read here: JustAskme Case Study. 
If you are interested in designing a Real Estate web application, click here: Social Network Development.
Web App Design: How To Hire an Outsourcing Team?
To make a web application design that will meet your expectations, you need a team of professionals. There are several ways to find a good team for your project. You can visit websites like Upwork or Clutch. You will find examples of projects the team has done, clients reviews, ratings, etc. 
You can also look for professionals on LinkedIn. There you will find information about where a particular specialist worked before, what projects he worked on, what exactly he is an expert in and what his experience is, etc. You can also ask your partners or colleagues for help. 
You can ask if they have had experience with a good team and what results they have achieved. We have prepared a small list of things that you should pay attention to when choosing a team for your project:
Experience and Expertise
Choosing a team for your project, pay attention to the amount of time specialists have worked in the field, and evaluate their expertise. If the team worked on projects similar to yours, then feel free to start communicating with them. Pay attention to the number of projects completed by specialists, their results, the team's strong points, etc.
Portfolio
Check out the portfolio. Usually, the portfolio contains the best and most successful projects, so try to carefully study them and understand how well the team can cope with your project. By looking through the portfolio, you may be able to find projects similar to yours or projects made in the style in which you want to carry out your one.
Reviews
After reading the reviews left by previous clients, you can understand in advance what processes the team may not be able to cope with, what are its strengths and weaknesses, how quickly the team gets the job done, etc. Spending a little time studying the reviews will help you not be mistaken in choosing a contractor and be sure that the team will be able to cope with your project.
Price
The most important thing, of course, is that the price matches the quality. After you evaluate all the previous points, compare the prices offered by different contractors. It's no secret that specialists from Eastern Europe offer the most reasonable prices, so we recommend that you pay attention to IT teams from this region.
Web App Design: Summary
Web applications are one of the most popular business solutions that combine high-performance, cross-platform functionality with ease of use. To create a great web application design, you need a team of professionals who can understand your idea and bring it to life.
We hope our article helped you get a little closer to the success of creating a unique and modern web app design. And if you need help and a team of specialists who will create such a design for your project, don't hesitate to get in touch with us.