Whatever modern companies do to please the user. Today, you will not surprise anyone with the presence of a website or an application. So it's time to move on. Constant communication with the user becomes one of the keys to success.
The concept of progressive web applications was developed to facilitate this interaction as much as possible and minimize all the factors that prevent companies from staying in touch with their customers 24/7. Let's see what the essence of this technology is and how much a progressive web app costs.
What is Progressive Web App Development?
What is PWA development? A PWA combines the functions of a website with a mobile app. Thus, the product will function similarly to the application, interacting with users. Anyone may use PWA, regardless of whether they have an internet connection. It is feasible and easy to download and install an application that has a one-click installation directly from the browser.
In other words, it is a new kind of contact with the target audience, which is implemented via online technologies with little effort on the user's part. More than 80% of smartphone users do not install a single application for a month, according to Quartz. PWA users may install apps instantly. Automatic updates are supported. A workable offline option means you may access the site without using push notifications, which makes it even handier.
What is the difference between progressive web app and native app?
A progressive web app is an online application that is designed to have a seamless, native-like user experience. Native mobile applications need to be downloaded from an app store, whereas PWAs run in the browser.
The primary distinction between these two software categories is that one focuses on functionality and the other focuses on style. While using progressive web apps, users' data is saved in the cache. If we provide users the opportunity to keep current, regardless of their Internet connection speed constantly, users will be able to do this.
A good thing about PWAs is that they do not depend on app stores to function. According to The Manifest, about 25% of smartphone users delete programs because they run out of storage capacity. Because of this, progressive web apps give a great deal of independence.
The fact that Progressive web apps contain URLs, therefore, making Google index them, is what makes Progressive web applications work. Customers can use a search engine to locate them fast. PWAs can even be used while a user is not online.
One more advantage is that progressive web app development cost is cheaper than native app development. Moreover, progressive web app development process is quicker and easier. Creating native applications from the ground up requires different and specific technologies for both platforms.
What is the difference between progressive web application and a responsive application?
One of the main differences between a progressive web app and a responsive app is that PWAs load much faster on all types of devices. With responsive web apps, users will not be able to work offline, whereas progressive web apps store lots of data offline.
PWAs are at the top of the list when it comes to providing a high-quality user experience that allows websites to appear more visually appealing. Unlike responsive applications, PWAs may operate on many platforms.
However, compared to progressive web apps, responsive web apps are not expensive in terms of development. This is probably the only answer to the question why PWA is bad, but only compared to the responsive web app.
That is probably the only answer to why PWA is bad but only compared to the responsive web app. Before starting to analyze progressive web app cost, let us figure out the key benefits of using PWAs.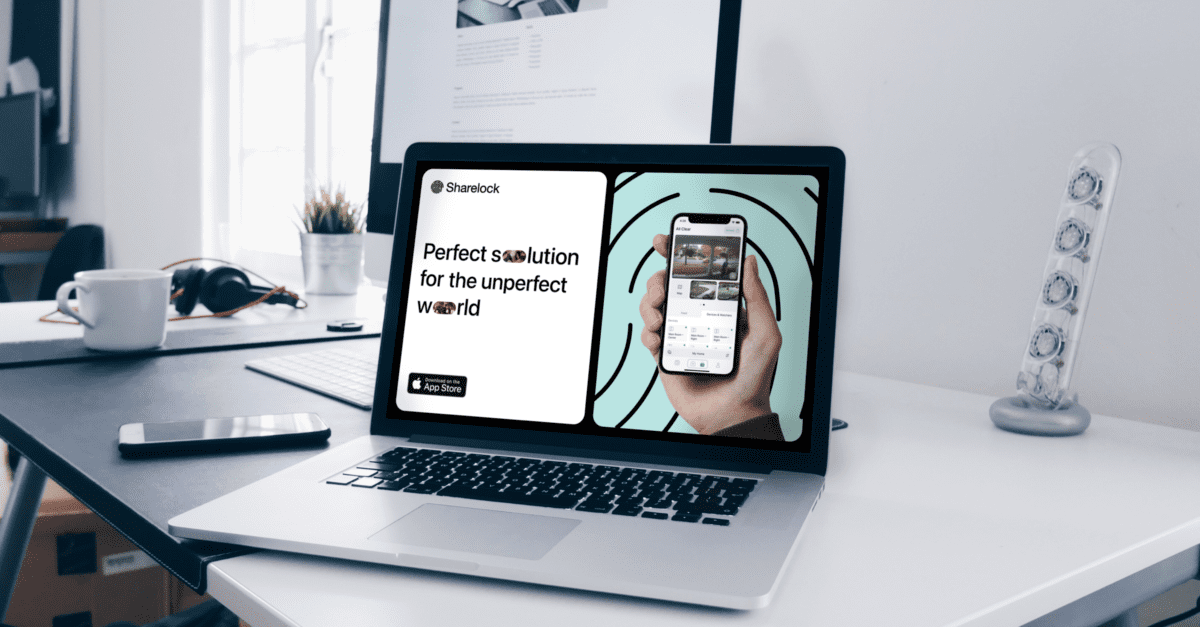 What are The Key Benefits of Using Progressive Web Apps?
We have already discussed the main differences between PWAs and other types of application, referring to some PWA pros and cons. Now let's find out how small and middle-sized businesses can benefit from progressive web app development.
Benefits for startups and small business
Despite some PWA drawbacks, startups and small businesses can benefit significantly from developing progressive web applications.
Here are main benefits for startups and small businesses:
Progressive web apps operate on any platform. Therefore, you no longer need to invest in creating solutions separately for each platform. For a small business, this is savings and the broadest possible reach of users, regardless of the devices they use.
Instant installation and minimal space requirements. In practice, this means a more significant number of installations and, as a result, users, since many smartphone owners, as we said earlier, refuse to install the application precisely because of the slow download speed or unreasonably large space needed.
Developing a progressive web application is less time-consuming than even building a regular website. Therefore, you can test your idea and get the first results very quickly.
Progressive web app development cost is much cheaper than other types of application. 
Benefits for middle and enterprise-level companies 
The progressive web application is a solution that suits any type and size of business. Let us figure out how middle-sized and enterprise companies can benefit from PWAs.
Here are main benefits for middle and enterprise-level companies:
You automatically fall into a zone of lower competition. When you create a mobile app for your business, you automatically enter the fray with the two million apps already built by iOS and Android. Progressive web apps support the ability to navigate from search results or social media pages. The chances of being noticed increase significantly.
The niche in which the business operates is unimportant since progressive web apps can be equally successfully implemented for retail businesses and media resources, such as social networks and entertainment.
With the help of PWA, middle and enterprise-level companies can solve a wide range of tasks:
Maintain constant interaction with the client, stimulating repeat sales. 
Due to the constant presence of the brand icon on the screen, its recognition among customers is increased. 
Savings on advertising are achieved by sending notifications without the need to set up additional advertising constantly.
The user gets access to the company's services with one click on the smartphone screen.
To ensure that progressive applications deliver tangible business benefits, let's look at a few successful PWA examples from well-known companies. Aliexpress increased its conversion rate from new users by 104%. Starbucks doubled the number of users placing orders daily, and the progressive app size is 99.84% smaller than the iOS one.
Key Factors to Consider About Progressive Web App Cost
How much does it cost to develop a website? Of course, this is the main issue that we should consider in this article. Progressive app and website development costs depend on many factors. Let's take a closer look at each of them.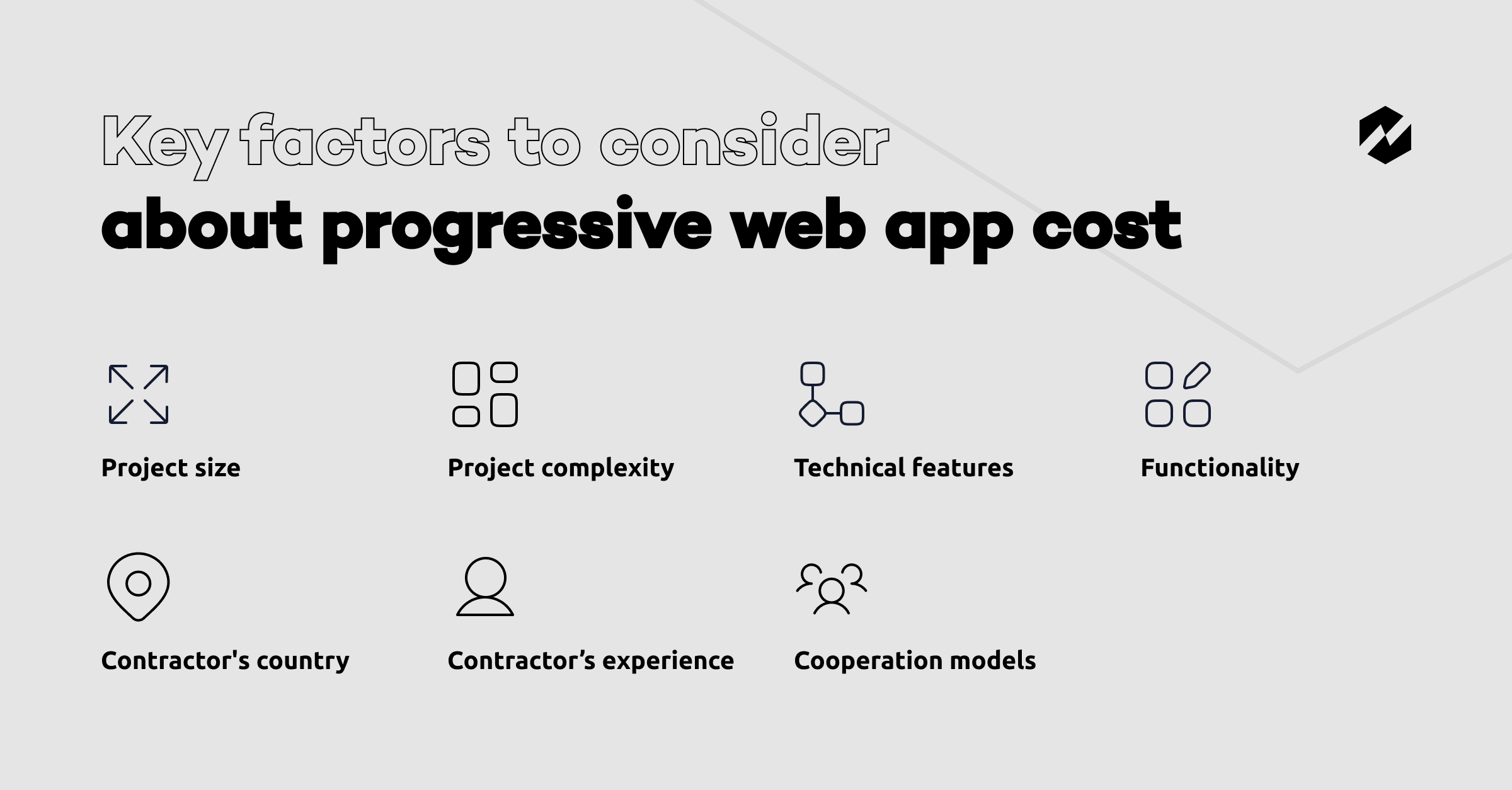 Project size
The cost of building an application primarily depends on the size of your project. A small project requires less development time. Consequently, such projects are cheaper. For larger projects, you will likely need more team members, more time and more money.
Also, in small projects, it is easier to identify problems and fix them. With large ones, you can get confused and it takes more effort and time to redesign some parts of the application or fix problems.
Project complexity 
Progressive web application development cost also depends on the complexity of your project. The more complex, the more expensive it is. Complex projects usually require experienced and skilled designers and developers. Not all companies can provide such teams.
Rewisoft focuses on providing clients with the best services for projects of any complexity. We create applications and web products so that they look and work exactly how our customers want them. If you need help with your new project, contact us. We will be happy to help you.   
Technical features
Of course, the cost of making an application depends on the number of different features you want to add to your application. The more features and the more complex ones you would like to add, the more you will have to pay. This factor is closely related to the complexity of the project. You will need a team of professionals with a wealth of experience in developing various web applications, including PWA.
Companies that want to add advanced opportunities for their users usually have to pay more. Additional features are needed for improving brand identity, customer loyalty, etc. However, if you want a standard application with a basic set of features, the web application price will be low. Progressive web app cost also depends on the functionality you want your product to have. 
Functionality
Functionality is all actions that your platform can do. The main value of the product lies in its functionality. For your future progressive web application to work well and smoothly, you will need an experienced team well-versed in building architecture, logic and navigation of applications.
It's not hard to guess that skilled and experienced designers and developers are more expensive than junior freelancers or agencies just getting started. Therefore, if you want to get a high-quality and valuable product with excellent functionality, you will have to pay a little more and the progressive web app cost will be higher.
Contractor's country
The progressive web app cost also depends on the contractor's country. The contractor's country is probably one of the most important and interesting factors affecting the cost of building an application. Paying between $200,000 or $50,000 for the same solution depends on where your contractor is located.
The company's local market will always determine the ultimate cost of the PWA. As a result, if you ask Swiss or American developers about the average cost to develop a website, they will give you the highest price out of all the options.
When it comes to creating progressive web applications, high progressive web app cost does not automatically imply excellent quality. When you compare the costs of hiring teams from all over the world, this becomes obvious. 
Here are some average figures for the cost of developing PWAs per hour of a developers' work:
In the United States and Australia, the average cost of developing an application is $50 per hour of work;
A developer from the United Kingdom will ask for $70 per hour on average;
If you order a mobile app development in Italy, the average cost per hour of development is $80;
The average cost of work for Ukrainian developers is $40 per hour;
If you ask Indian developers about the average cost of their job, they would tell you that it is $20.
Contractor's experience
Of course, in addition to the country in which your contractor is located, the cost to build a web application will be influenced by the contractor's experience. There is nothing complicated here. The more experienced your contractor is, the higher price for the project will be.
When evaluating experience, it is essential to consider the number of years worked in the industry, examples of previously developed applications, customer reviews, etc. But don't assume that successful companies will charge you too much. For example, in Eastern Europe, many excellent web design and development companies offer reasonable prices while doing excellent and quality work.
Cooperation models
The last factor that influences progressive web app cost is the cooperation model. There are two types of models: fixed price and time & material (T&M) model. Let us quickly analyze them.
Fixed price is a model in which the customer pays the contractor for the result at a pre-agreed cost and terms of work. Estimation of the scope of work and deadlines is accurate and the main priority is to meet the deadlines and the allocated budget. In this model, results and quality can suffer for the sake of meeting budget and deadlines.
The main advantage of this model is that the cost is known in advance and fixed. However, you will not be able to make any significant edits, completely change the application concept, or add elements during the development process. Also, the specialist rate in this model is more expensive than the Time & Material by about 15-20%.
Time & Material is a model where the customer pays for the process, i.e., according to specialists' actual worked time. Estimation of the scope of work and implementation time is made approximately, and the main thing is the result and quality. Time and cost may increase for better results or quality. Using this model, you will be able to make changes during product development, but you will have to pay extra money. When choosing one of these two models, it is vital to prioritize and set a budget.
If you still have questions about these two cooperation models, we advise you to read our article Fixed Cost vs. Time and Materials. What is the Difference?
How Much Time Do Teams Spend On Your Project? 
We have already discussed what factors you need to consider to understand the average cost to develop a website. Let's move to the timeline subject. To know how much time a team will spend developing a progressive web application, let us consider the main stages of the development process. 
BA & Product Discovery
The stage of business analysis and product discovery directly depends on the size of your business. The bigger your company is, the more time will be spent on this stage. And the more time is spent, the higher the cost to build a website and app will be.
It is also crucial to consider the specifics of your business, requirements, needs, etc. All this, in one way or another, will affect the time spent at this stage of the progressive web app development. For your convenience we calculated how long this stage will take for different sizes of businesses:
Enterprises: 60-120 hours;
Middle-size project: 30-60 hours;
Small projects: 15-30 hours.
UX/UI Design
UX/UI design is one of the sizeable stages of progressive web app development. This stage requires constant confirmation from the client, elements fixes, improvements, and so on. To save a little time at this stage, check each application page separately as they are ready. This way, the designer will be able to fix or improve what you want immediately and will not waste time on it in the future.
Of course, the time spent on UX/UI design depends on its complexity and how clearly you write design specifications. We have prepared information about how long UX/UI design will take for different sizes of companies:
Enterprises: 100-250 hours (UX), 200-300 hours (UI);
Middle-size project: 60-100 hours (UX), 55-110 hours (UI);
Small projects: 30-45 hours (UX), 25-50 hours (UI).
Web Development
Web development is the biggest and the most time consuming stage. The duration of the process depends on the complexity of the functionality of your future progressive web application, the number of additional features, the complexity of logic and navigation, etc.
Also, remember that the better and the more frequent your communication with the development team, the faster you will receive the finished product. That means you should be clear about your needs and requirements. Let us analyze how much time you need for this stage:
Enterprises: 20-50 hours (technical documentation), 250-500 hours (frontend), 300-600 hours (backend). Since developers work on the frontend and backend in parallel, the time error can be 15-20%;
Middle-size projects: 12-25 hours (technical documentation), 120-200 hours (frontend), 130-210 hours (backend);
Small projects: 8-10 hours (technical documentation), 70-90 hours (frontend), 80-100 hours (backend).
QA
QA stage is the final stage of progressive web app development. For your product to function smoothly and benefit your users, you need to test it thoroughly. QA specialists check how well the application's functionality works, whether all the features work correctly, how user-friendly the application is, etc.
If any mistake is found, the design and development team will solve it. Here is the approximate time you will need to spend on this step:
Enterprises: 80 hours;
Middle-size projects: 40-80 hours;
Small projects: 40 hours.
Let's Count Your Progressive Web App Cost
Now let's look at the basic steps you need to take to develop a progressive web application and calculate your project successfully.
Write a design specification for your project
Writing a design specification is essential since it increases the chances of a successful result. Design specification includes a detailed description of the desired product (how it should work and how users should interact with it). By specifying all the key points in detail, you will save both time and money. Design specification will help the web design and development team not miss anything and create a product that will fully meet your business goals.
If you are not an expert in product management and have never written a design specification before, you can check our recent article How To Write The Design Specifications? It is a quick guide where you will learn the basic principles of writing specifications. In addition, you will find an example of a design specification document based on the recent project we worked on.
Identify the basic requirements for the contractor
Define project goals and basic requirements. Without a clear idea of ​​what you should get in the end, a good project will not work. Therefore, the correct formulation of the main task is extremely important. The work on the project should be carried out based on the exact terms of reference.
Requirements should be based on:
your project's size;
the complexity of your project;
technical features that you want to add to your product; 
desired product functionality;
contractor's country and experience;
model that you will choose for cooperation.
By writing down the basic requirements for your contractor, it will be easier for you to control how well the work is being done. Therefore, you will not waste your money since the lack of requirements gives the contractor complete freedom, leading to an unpleasant outcome.
Choose the best model of cooperation
In general, there are two models of cooperation you can choose from. You can use a fixed rate or hourly wages. Agreements, where payment is made by the hour, allow a more accurate estimate of the cost of services and have more flexible terms. Working under such conditions, the contractor can make edits and switch to the agile development process.
The fixed rate, as in previous cases, depends on the developer's hourly rate. However, the contract specifies the number of hours per week the developers must do their job. Thus, the project manager can ensure that the contractor will be available, for example, 20 hours a week for 10 weeks. It turns out, whatever the circumstances, the developer is obliged to allocate the specified amount of time to develop a product.
Calculate the approximate price based on the average lead time and your requirements
To calculate the approximate price, let us, firstly, find out what lead time is. Lead time is the amount of time that goes by from the start to the end of any given process. Above, we have already indicated the time you should spend on each of the progressive web application development processes.
Therefore, it will not be difficult for you to calculate the lead time. The approximate price for completing your project will completely depend on the lead time and your requirements. As we mentioned earlier, the more requirements you have, the higher the price and vice versa.
Request potential contractors
To find the ideal contractor, you will need to select several companies that suit you and send them your request. Do not forget that your request must be clearly formulated and list the essential points to you. How well you form your request will determine how well companies will understand your ideas, needs, desires, etc.
Rewisoft is a team of skilled and talented designers and developers who can provide you with exceptional custom web application development services. Our team of experienced professionals is well-versed in the creation of web applications tailored to fit businesses across any industry. We take pride in constructing superior, dynamic and secure platforms that are optimized for scalability and reliability.
Expanding our reach through utilizing a range of technology stacks, we provide clients with quality solutions designed to maximize user experience while granting an extensive online presence. In addition to high quality, we also provide our clients with reasonable progressive web app costs. 
Analyze offers and choose the best
Finding the right contractor for you and your project is not an easy task. However, after making a detailed analysis of the market and comparing the terms of work, you can choose the most suitable option for yourself and at a favorable price. 
If you want a fantastic and high-quality progressive web app, contact us. We have successfully completed more than 150 projects for companies from 45 countries. Our team creates products that will help you achieve your goals and get ahead of your competitors.
How Much Does Progressive Web App Development Cost? 
Progressive web app development cost depends on various things. In the final part of the article, we would like to tell you in more detail about how the cost to build a website and app depends on the web development lifecycle, country of the contractor, seniority and the tech stack used.
Average prices by web development phases
Most often, companies follow 5 main steps in developing web applications or websites. Backed by the right resources, each step in the web app development process is fundamental to ensure successful deployment. Investing time and money into these phases early helps guarantee a product that matches customer expectations. And also, each phase affects the final progressive web development cost.
We have prepared a table for you where you can see the approximate prices for each of the web app development processes, as well as estimate the time required for these processes: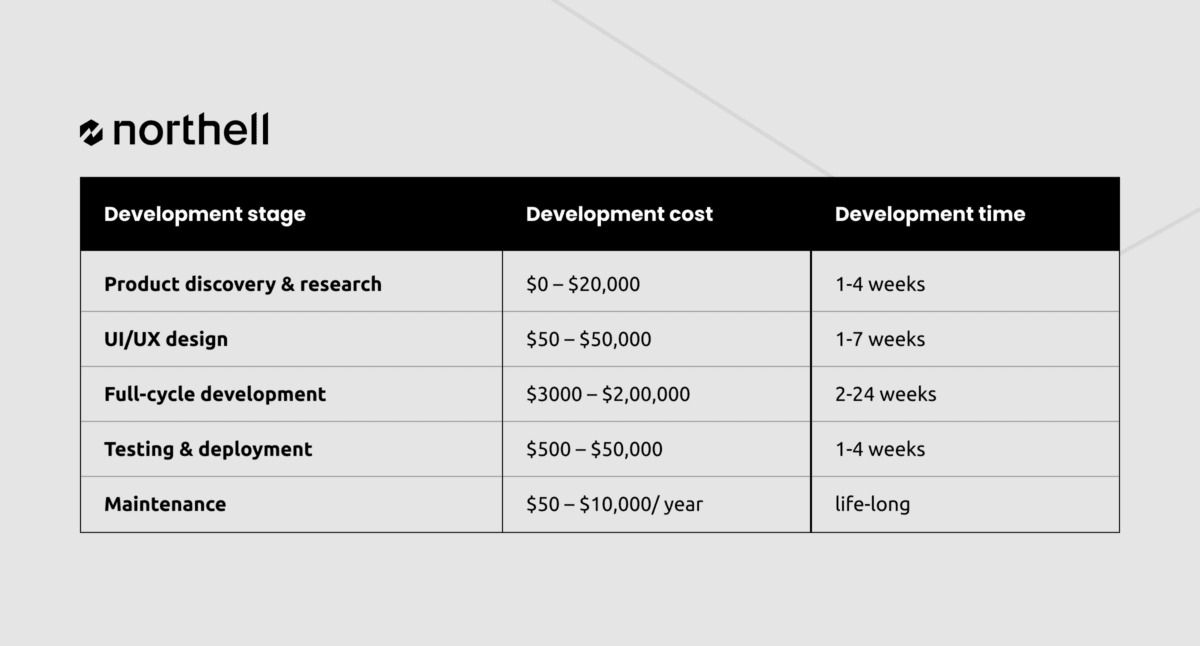 In general, a total progressive web app development cost ranges from $3,600 to $350,000. 
Average prices by country
Consider hiring a team from Eastern Europe. This region has grown into one of the largest IT outsourcing centers in the world, with over a million highly qualified developers. Ukraine, Poland, Romania, and Belarus are its primary outsourcing centers, with typical offshore development prices ranging from $20 to $50.
While development costs in Eastern Europe are reasonable, the quality is likewise promising. Because of its abundance of technical educational institutions, this region has a strong and established IT competence. Another advantage of IT outsourcing in Eastern Europe is the relatively high level of language competency – most contractors speak English.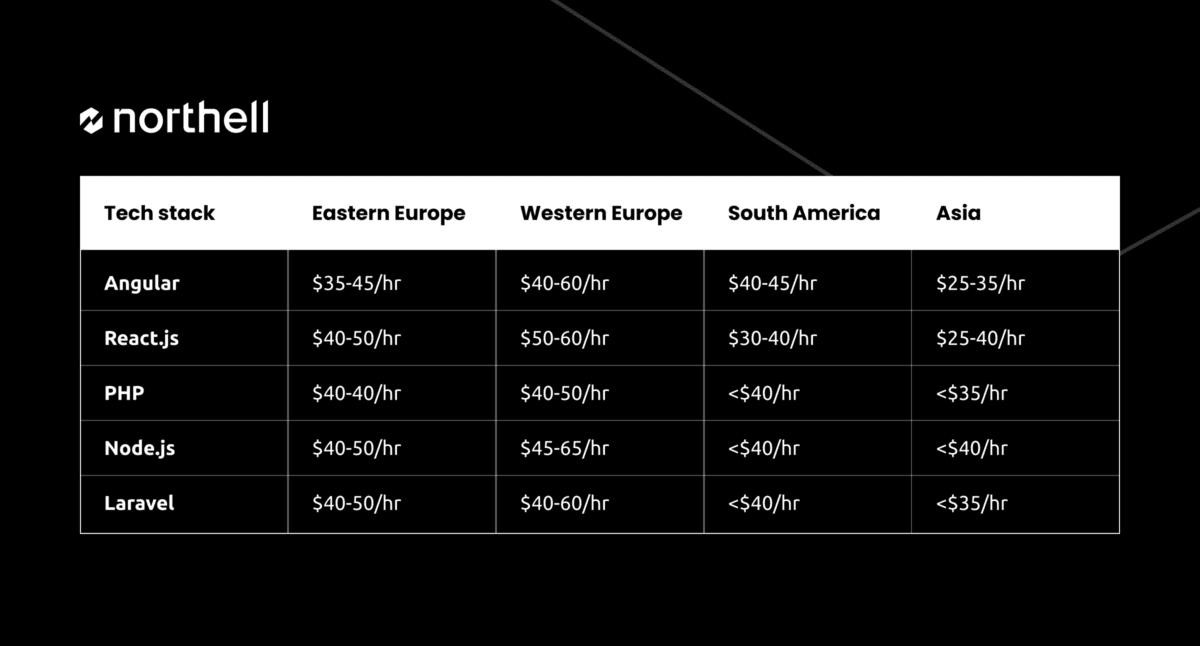 To make sure that Eastern Europe is the most profitable option, let's look at the prices offered by different regions:
You should also remember that with an increase in the team experience level, the price will increase by about 15-25%, regardless of the contractor's country.
Average prices based on seniority
Everything is very simple here. The more time the specialists have worked in the field, the higher the average price to create an app. The experience of developers is also influenced by education.
Usually, junior teams charge approximately $20 per hour, but as you might think, the work will not be performed at the highest level. Middle-level teams charge $25 and seniors charge about $40. In this case, you will get a great product and the work will be done with sufficient quality.
For example, in Ukraine, every year, around 35K tech experts graduate from Ukrainian technical colleges. Most software engineers in Ukraine have bachelor's degrees and can communicate in English at the intermediate and advanced levels. But a wealth of experience and great education does not always mean a huge price. As we said before, Eastern Europe offers high-quality services at reasonable prices.
Average prices by tech stacks
The average price to create an app depends on the tech stack the team will use. Every day, developers face such questions: How much does it cost to build a simple app? How much does it cost to build a software application? How much does it cost to build a saas platform? etc. They usually answer, "That all depends on the tech stack used." Let's take a look at prices of different stack usage for different regions:
| | | | | |
| --- | --- | --- | --- | --- |
| Tech stack | Eastern Europe | Western Europe | South America | Asia |
| Angular | $35-45/hr | $40-60/hr | $40-45/hr | $25-35/hr |
| React.js | $40-50/hr | $50-60/hr |   $30-40/hr | $25-40/hr |
| PHP | $40-40/hr | $40-50/hr | <$40/hr | <$35/hr |
| Node.js | $40-50/hr | $45-65/hr | <40/hr | <40/hr |
| Laravel | $40-50/hr | $40-60/hr | <40/hr | <35/hr |
Rewisoft Tips on How Not To Overpay For Progressive Web App Development 
We have prepared a small checklist for you not to overpay for progressive web app development:
Before starting searching for a contractor and developing, be sure to formulate your product idea clearly.
List your requirements correctly.
Write the design specification clearly.
Carefully consider the question of finding a contractor. Analyze all possible options. Compare prices, terms of work, etc.
Having chosen a contractor, agree on stable communication.
Don't miss an opportunity to discuss issues during the design and development stage. Once product development is complete, fixing bugs will cost you a lot more.
A Few Last Words About How to Count a Progressive Web App Cost 
As you might have already figured out, the progressive web app development process requires preparation and study. In this article, we have tried to answer all your possible questions.
By listening to the advice we mentioned above, you will create a truly valuable product without wasting extra money and time. Progressive web app cost depends on various things.
Analyze everything we have discussed in this article to understand what progressive web app cost is normal and which one is overstated.